This is what we woke up to this morning, a drastic shift in direction for Hurricane Florence.  This puts us on the "worst" side of Flo, with forecasts of lots of rain, wind, and possible tornadoes. For my friends who aren't sure where we are on this map, find the "M" in Myrtle Beach and look north to the state line, then west till you almost hit that dog leg, and that's where our farm is. Just a couple miles south of the state line.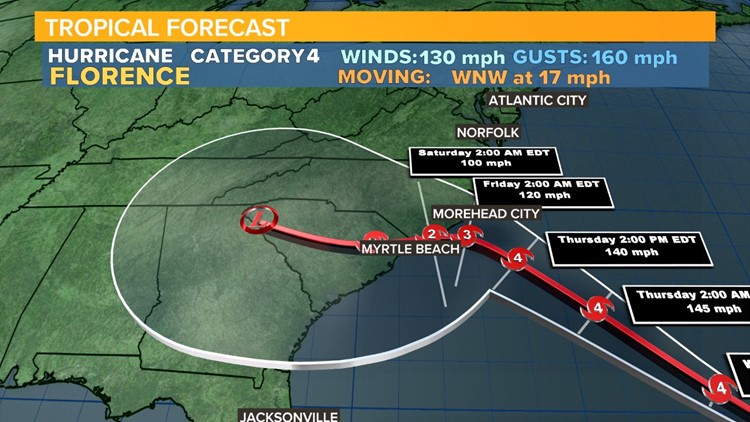 Of course, Flo could change her path yet again. That's what Hurricane Hugo did way back in 1989. He was forecasted to come ashore in Savannah and head west. Instead, at almost the last minute, he decided that he would roar ashore in Charleston and race straight for us, bringing tremendous devastation to our area. Farmer Bob was out of town, the children were small, we lost all our fences and were without power for 10 days.
Ever since Hugo, we don't mess around with assuming a hurricane heading anywhere near our farm will NOT impact us, so we prepare each time. We've upgraded our fencing, have a generator now, and are well stocked with oil lamps, batteries, flashlights, meds, fuel for all the vehicles, generator, tractors, chain saw, etc. We have a freezer full of goat milk, we have bread, LOTS of eggs, and cans of soup for quick meals. I've cooked ahead so we can reheat leftovers on our gas range. Almost all our county, if not all, has access to the county water system, which sure was a blessing during all those days after Hugo. It's such a luxury to have running water to take showers, flush toilets, and for drinking.
Farmer Bob came home from his business trip last week with an injured arm, and now we know it is a torn bicep and he has very limited use of it, will have to have surgery ASAP and a possible long recovery. I've got something really painful going on with my ankle, and am going to see an orthopaedic doctor this afternoon.  I'm hoping he'll be able to fix me up because, you know, a lot of farming is walking.
In the meantime, let me share a picture of my goat barn mascot.
Those two boards are 2x4s, so she is a big girl. I've no idea what kind of spider she is, but she's just been loafing around inside the feed room all summer. I really don't like spiders but I'm not freaked out by them (unless they are on me), and I've been pretty much in awe of this one. I wonder if she is catching mice to eat? (Maybe big spiders do????)
I feel like this is the calm before the storm, and I guess it really is. I remember that feeling before Hugo hit. Now I'm walking around looking at things here on the farm and wondering what changes Flo will bring. Small and large things may change. This morning glory won't see Flo, so I took a picture of this pretty flower decorating the old garden fence. You can see Carly in this picture.
I guess I'm trying to stay calm amid flashbacks to Hurricane Hugo. One of my friends who is a fabulous quilter says she goes in her sewing room and stitches to calm her nerves. I plan to do that because I have some projects to work on, and it helps to stay busy. I have Farmer Bob's Grannie's treadle machine, so we'll be "clicking" right along, even if we lose power. I have knitting and crocheting. We'll have fences to check and animals to keep an eye on, including those ewes heavy with lambs. I'm trying not to think about what we'll do if trees come down on the fence, because Farmer Bob can't start his chain saw with the injury he has. Thank God for good friends who've already offered to do whatever they can to help us! Let's hope we don't need that!
Soooo…..we have a hurricane coming to visit and she'll hang around for 3-4 days. Ugh. And we're both crippled. Double UGH. Oh well, you just have to take what life hands you and keep going, right? At least I have one good leg and two good arms, and Bob has two good legs and one good arm, so I guess we'll make a pretty good team, right???? hahahaha
Batten down the hatches, say a few prayers for those along the coast, and I hope everyone makes it through this hurricane unscathed.
EIEIO!
Debbie